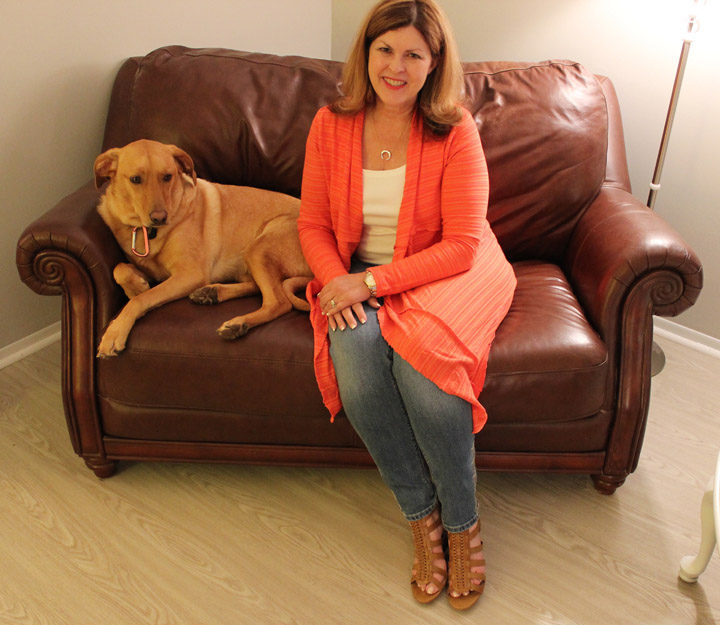 Good Morning!
Happy Friday! We made it! Thank you for all the encouragement you sent from My Tasty Tuesday post! Tasty Tuesday will be back with another great recipe next Tuesday!
What kind of plans do you have for the weekend?
Oh my heart is so full I could just burst! My nephew Jonny is having his graduation party tonight! Way to go, Jonny! So from near and far, we are heading home to Ohio to celebrate a transition for this young man to his next chapter!
All six siblings from my family will be there as my youngest brother David and his wife Shannon celebrate Jonny's success! And both of our parents, too! The grandkids that can make it will be there. Friends and family. These are like gold nuggets in life and I don't want to miss them! Not to mention we are organizing lunch and shopping tomorrow! This weekend is looking mighty fine!
So what to wear to so many fun things this summer? Barbecues, grad parties, reunions, weddings… so many fun things! And you want to feel good about what you are wearing, and be comfortable too! Pretty much all summer I will be sharing some finds and ideas with you on that very topic!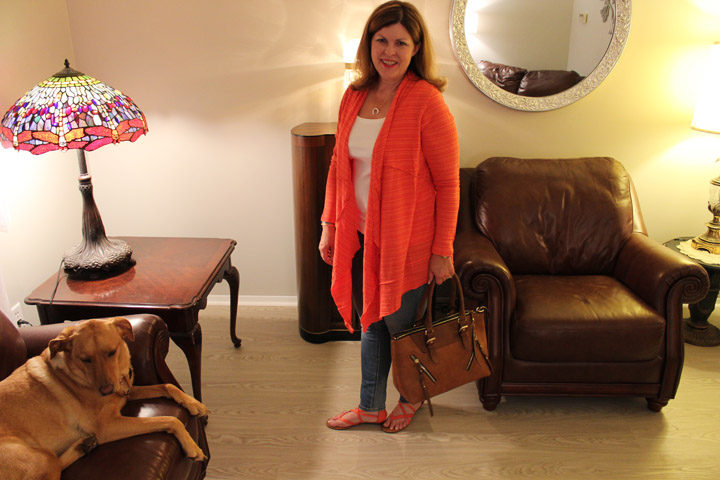 First I wanted to share this super soft coral cardigan. Its like its spun from the heavens!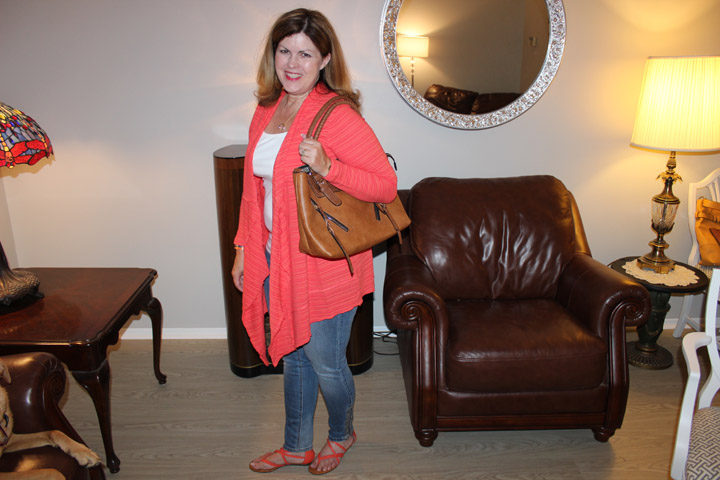 And I found these cute coral flat sandals (Jessica Simpson Roselen) as well! Its fun to have a bright colored sandal in your closet!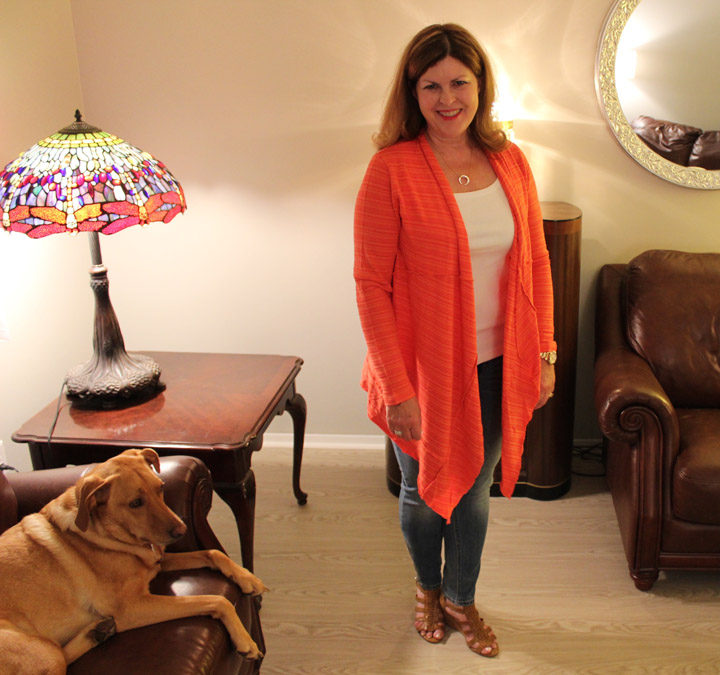 Now styled with a cognac colored wedge, if you like having a little height.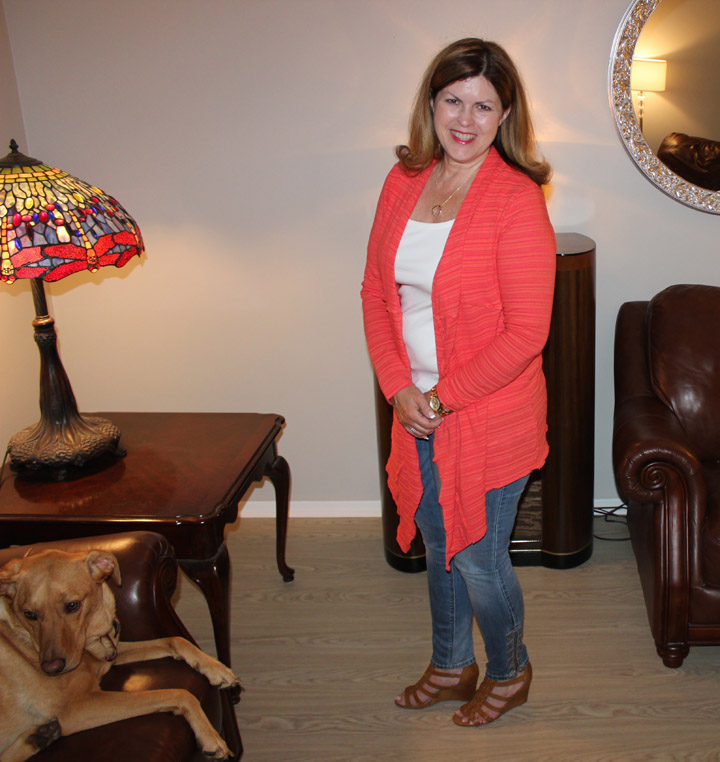 So sorry the shoes are sold out, but here are some that are similar, here and here .
Notice how lovely my Stella and Dot Luna necklace looks with this neckline!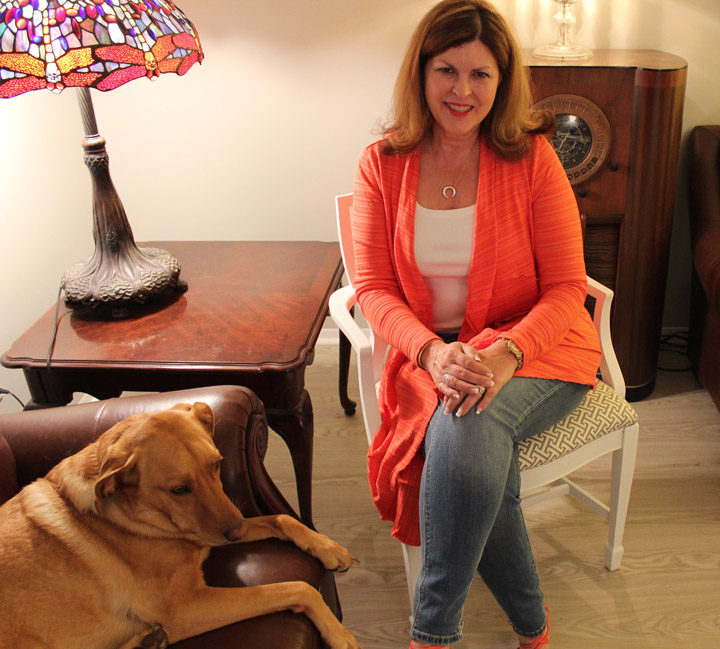 The cardigan is from a store called Soft Surroundings. They just opened their first one in Michigan about a month ago, and they pride themselves on having beautiful clothes that are soft to the skin. This one gets an A+! It also comes in a pretty lighter blue as well. Perfect to keep the chill of a summer night or air conditioning at bay!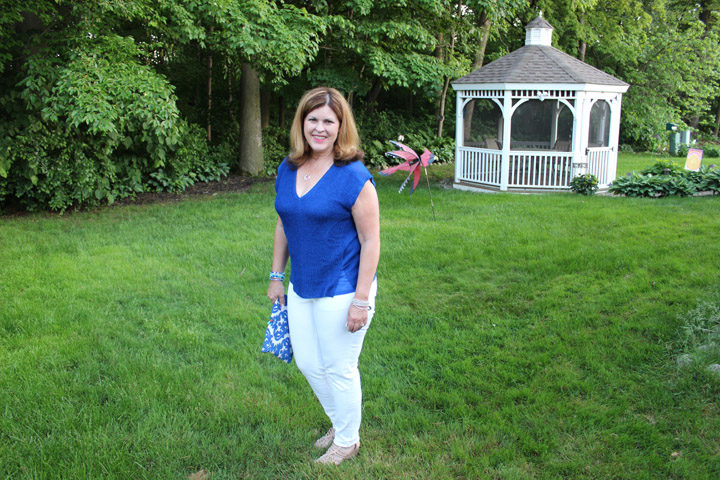 Next is this royal blue layered Mixed Stitch sweater from LuckyBrand. I love a crisp blue with white denim for summer! Since I am so fair skinned, I look much better putting color near my face as opposed to white. Now white isn't always the most slimming color on a pant. But its summer, and white is such a feel good color for summer! I say embrace it!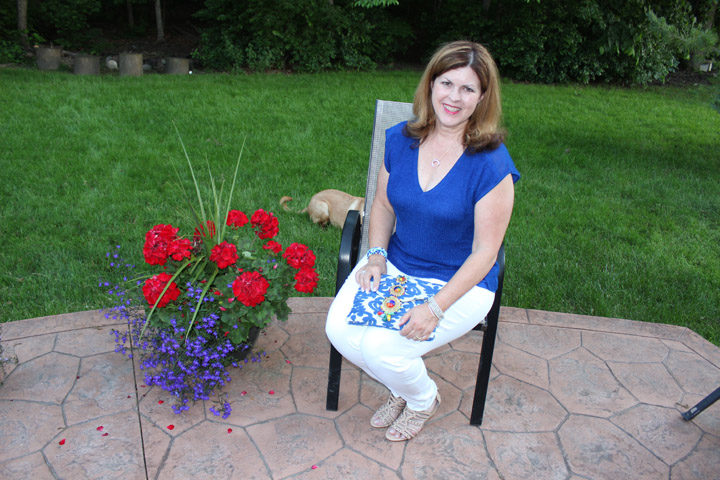 I had gotten this cute embroidered and beaded clutch a few months ago, and I think it works with this sweater too!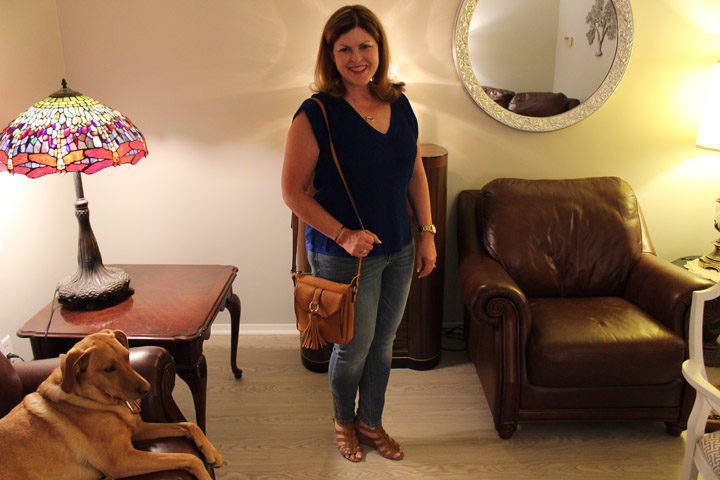 I wanted to show the sweater works with denim too.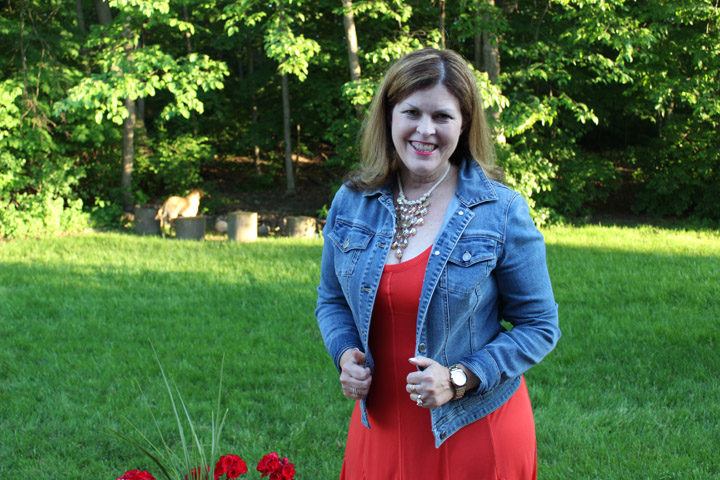 Here I am wearing a poppy red sundress with a denim jacket. I actually got the dress last summer at Anthropologie. If you have never been, its really a cool store! They also sell some lovely household items like dinnerware, candles, decorative items, and everything is simply lovely! They are a little pricey but this dress was less than $40 on a sale rack.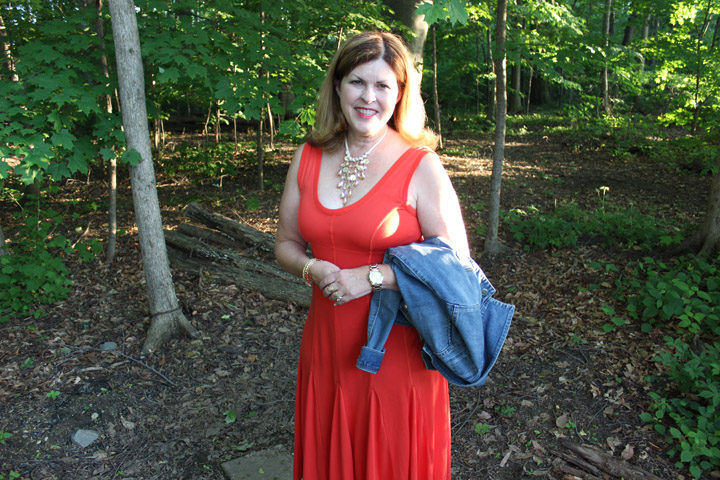 The necklace is also from Anthropologie. Their jewelry is so unique and really quite reasonable! The roping on this one is like a literal cloth rope with all these abstract shaped glass beads hanging down. When I'm not wearing it, I could hang it in my window to catch the sunlight!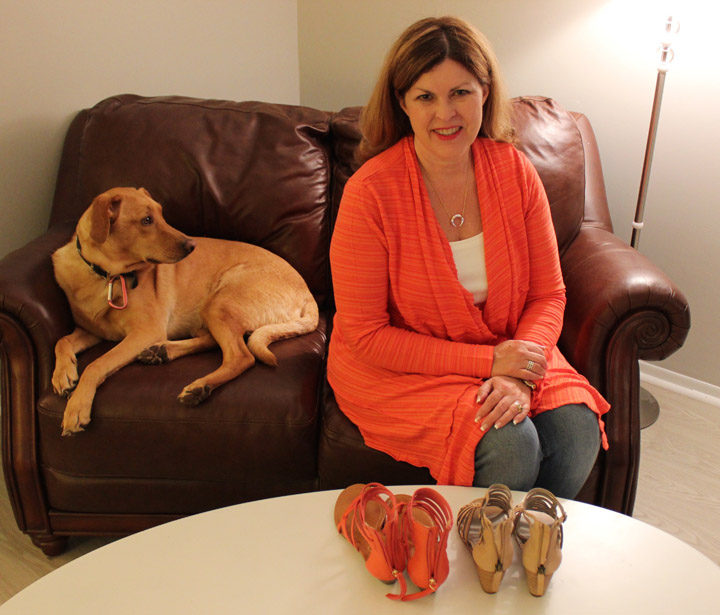 I also wanted to show you something I have discovered I love… shoes that zip up the back! You have all these cute straps and buckles on the front, but you don't have to mess with it at all! Rear entry slip on, Sugar! It reminds me when we discovered velcro tennis shoes for our toddlers. Life simplified! You can actually search on shoe sights for zip sandals!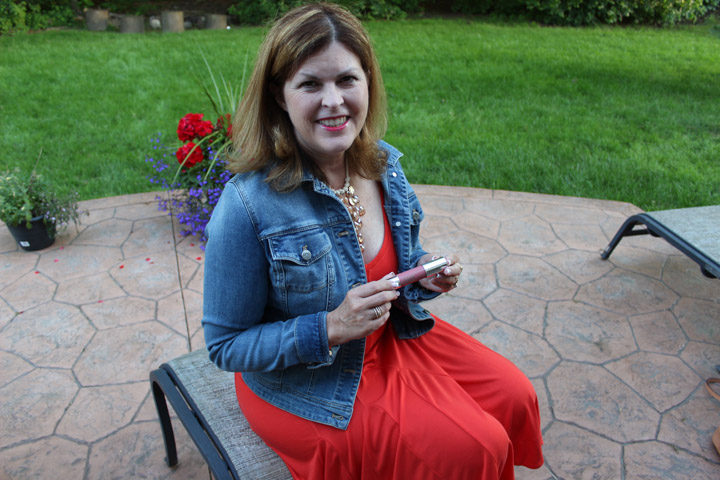 I also wanted to share a few products I've tried and what I think of them. Remember I'm a total rookie when it comes to glamour, but with a "never give up" spirit! So first is a blush product from Clinique, called             "Chubby Stick" (ok, I'm not crazy about that name!) but this is now my only blush I use. Its like a big chunky crayon. This means I can find it easily in my makeup bag, and its easy to put on even after three cups of coffee and shaky hands! The color I purchased and I really love it is "amp'd up apple".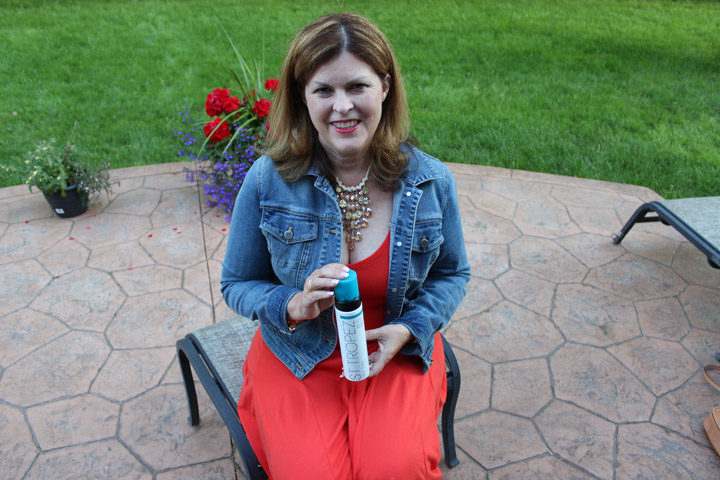 Next is a mousse tanning product from St. Tropez. As you know, I'm a little on the pale side. I can tan, but I don't have the luxury of a whole lot of "tanning time" and I'm not sure, but I think it might not be good for your skin if you do too much of it. So, since its summer, I wanted a "fast tan" like fast food! So I researched a bit, and found this to be one of the popular favorites. There are lots of tanning products out there in every price range. You can even go places that will "spray you down" so you don't have to mess with it. (That would require a new comfort level for me… but never say never!)
So I read the directions the best I could (print very tiny). An aside here, I asked my eye doctor why my eyes were getting worse over time. I kid you not… he said, "well, as you age, your eye muscles get flabby and lazy." (there goes your tip, buddy!) Flabby eyes! Pardon Moi?
Anyway, there were these warnings about being sure to use their mitten (pshaw who needs that? I will use my kitchen rubber gloves!) and smoothing it on very carefully and evenly, watching out for areas near the ankles and knees which might get too much. Ok… I got this!
So out comes the mousse and it looks like a bubbly black brown gray matter. I'm suppose to put this on my skin? I remembered a Sunday school story about washing in the muddy Jordan river, so I decided to give it a whirl!
As I put it on, it looked like deck stain. Yep. Sort of a translucent brownish gold deck stain. Hmmm I better be careful. So I kept looking in the mirror but remember I suffer from flabby eyes… and somehow, everything that could go wrong did. No, I shouldn't say that… but my deck looked like I missed a few planks when I stained it! But don't worry, it fades in a few weeks! The good news is it looks great on the areas I did it correctly! Though a few spots on my ankles look like a fudgesicle melted on them. Just keeping it real, friend! Don't worry I won't give up!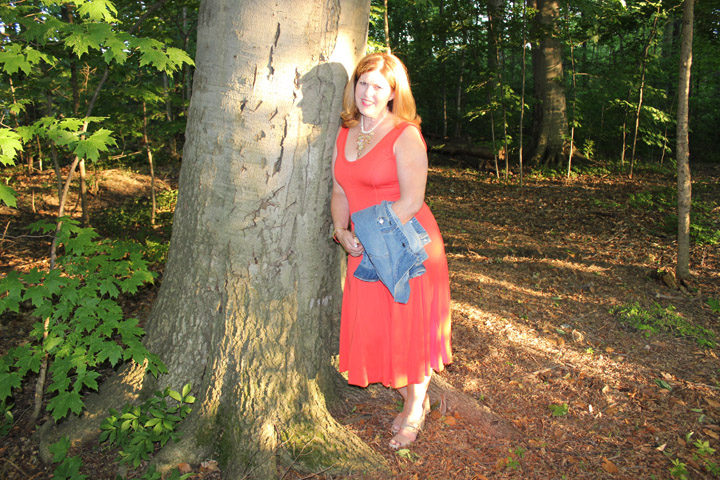 So briefly, I wanted to share about something that happened to me the last time I went to the doctor. Troy called and said our insurance would give us a significant discount if we had yearly physicals. So, we decided it was a good time for a physical! I didn't have a primary care, and so I called a place and they assigned me one. I went in and met a young lady doctor who had been out of medical school for about a month. She was very sweet, very young, and tiny, bright eyed and full of enthusiasm sort of like "cheerleader graduates from med school first day on the job" sort of a surreal experience. She mentioned to me that I have a little bit of a weight concern, and I might try eating more fruits and vegetables and maybe getting out and exercising more. I tried not to make any groans but I think my flabby eyes rolled a bit. Still I smiled and thanked her for the good ideas. I mentioned to her that I had been working on my weight, and had lost almost 50 pounds. She gasped! "How did you do it?" she asked as she named off a host of the popular diets. I told her, "self discipline", silence. I told her if it was fattening I didn't eat it. Boom. Then she had an epiphany. "Wait a minute!", she said as the excitement began to build in her voice. She grabbed my medical charts and began comparing them and she said in an excited voice, "Do you know what this means?" "What?" I asked. She said with all the excitement of a lottery winner, "You're just 15 pounds from normal!" The gravity of that statement soaked in. I was speechless… but she was so happy, I just said, "well isn't that wonderful!"
So I pondered that statement for the many ways it can be interpreted.
And there is one place where no matter what has happened in your life, no matter where you are at, you are loved and embraced just the way you are. Home. Every person regardless of marriage status, or any struggles you have endured. You still have family. Its not about 4 walls.  Its about the people. For some, you may be out on your own, or maybe in some very challenging moments. But your family loves you. No comparison of resumes or bank accounts or body measurements or lifetime report cards have any weight here. You are highly treasured and loved just the way you are. I asked my son what it meant to him, and he said, "home is a place where there is no judgement, no fear." I asked my husband what it meant, and he said its "total contentment and perfect peace". It reminds him of a song by Lonestar where they talk about how "the view I love the most is from my front porch looking in."
For some of us, our "home" includes some family that has moved on to Heaven, and we will see them again someday. Home- mom, dad, brothers, sisters, cousins, nieces, nephews, kids, aunts, uncles, even our precious pets… these are the dear ones you have grown your roots with. These are the ones who ground you. You don't have to prove anything to them. You are totally accepted for who you are. You belong. This is a little earth picture (even though flawed) of what Heaven will be like. If you even have one golden memory, that is a precious taste of what is to come, and its so much more than we can imagine. Our families are not perfect, but each and every person in our families should know that this is a place where love rules unconditionally. If its been a little icy there lately in your life, maybe you can take the first step to bringing it back to a beautiful place. The loveliest flower to reach out for is the one who feels the farthest away. Send them a little love, you may never know how much that means to them. And remember, You are always welcome here, you are always loved here. For you, this can always be a place called home.
Love Always,
Amy
"A man travels the world over in search of what he needs, and returns home to find it." George Moore