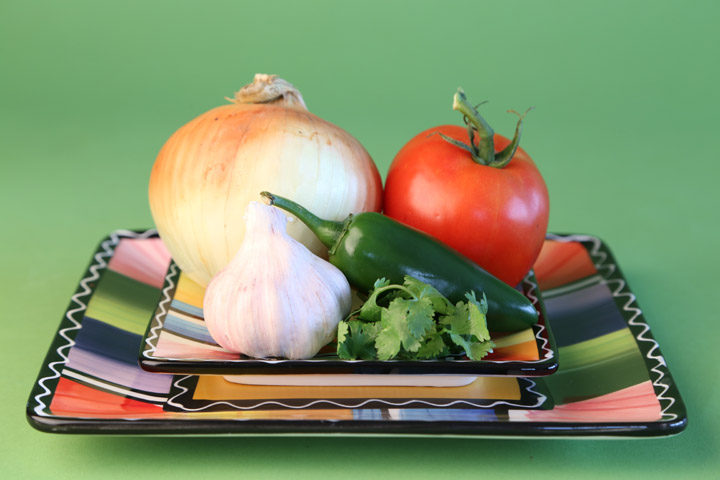 Its another Tasty Tuesday, and a gorgeous one at that up here in the Mitten State!
Today we have a barn burner recipe that has taken America by storm! 
Salsa! And this one is a super simple recipe that you are going to love! I know many people make it all the time, but there are lots of us that have never made it, only buying it in the jars along with millions of other Americans. But its so simple once you know how, so today we are going to learn together!
But before I go any further, I want to stop and thank my beautiful friend Maribeth who does all the food pictures for this blog. She is a great inspiration and source of encouragement to me, and she is extremely talented with photography. If you would like to see more of her incredible work, or for an inquiry, you can contact her at Maribeth Schmidt Photography.
So lets talk Salsa! This is the first salsa recipe I ever tried, I got the recipe a few years ago from a very dear friend of mine, Emily Wallace and her beautiful family. Salsa is one of those really fun foods! A group of people gather around the bowl of salsa, with some great chips or veggies, and its just so flavorful! Its not like anything else! You can't help but smile!
That is a lot like my friend Emily. She makes everyone smile!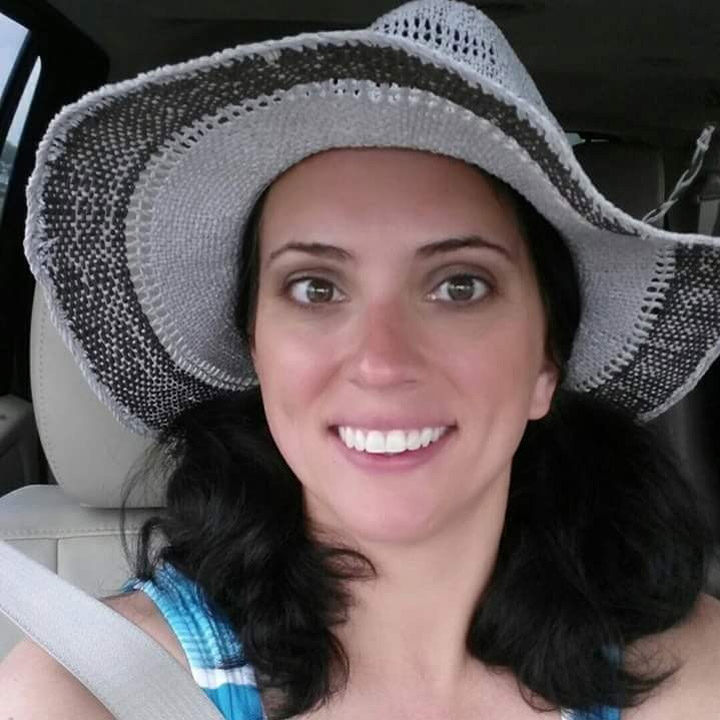 Emily has so much personality, when she enters a room, it just lights up, and everyone is drawn to her! She has a gift for teaching, and a love for acting and writing. She has three beautiful children that she loves with all her heart. She has written an adorable and funny children's picture book called Mom Always Says . Just as her salsa recipe is like a party of flavors, she is alive with character, spunkiness, laughter and fun! She also has a huge heart for people, and her future endeavors will most assuredly involve helping folks in some way. So it is with a great delight I share this recipe of Emily's with you today! Lets get started!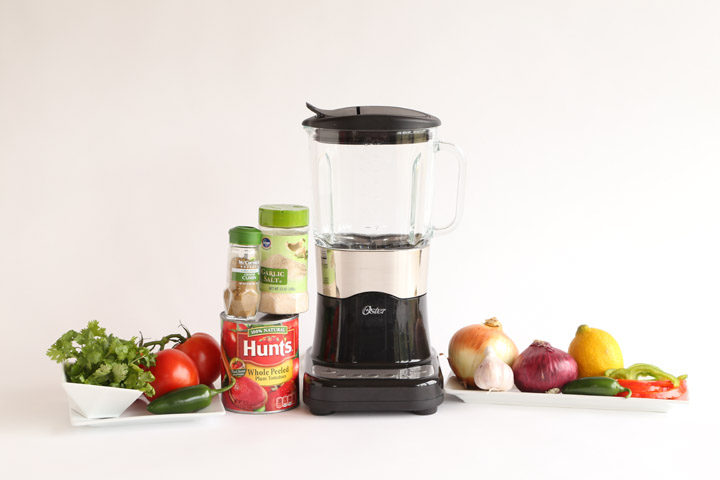 1 Large can of diced tomatoes
1/2 white onion
1 green pepper (remove core/seeds)
1 small handful of fresh cilantro
10 shakes of garlic salt
1 tsp ground cumin
1 tsp minced garlic or 2 fresh garlic cloves minced
1 lemon
1 small jalapeno seeded and chopped (Optional)
Place all of the above items except the lemon in the food processor or blender. Cut the lemon in half and squeeze in juice from 1/2 the lemon. Blend or pulse just until incorporated. Taste and if more lemon juice is needed, you can add juice from the other half of lemon. Pour it in a pretty serving bowl.  And that's it! So good and so easy! Kapow! Flavor town!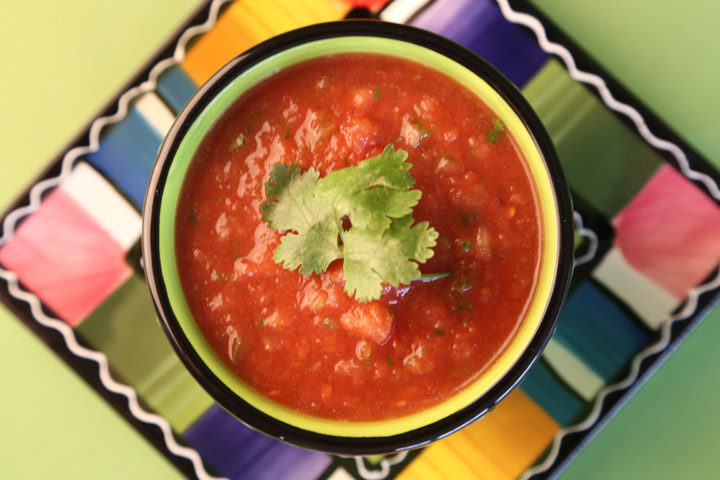 Serve it with your favorite chips or crunch veggies. Anything you can scoop it up with!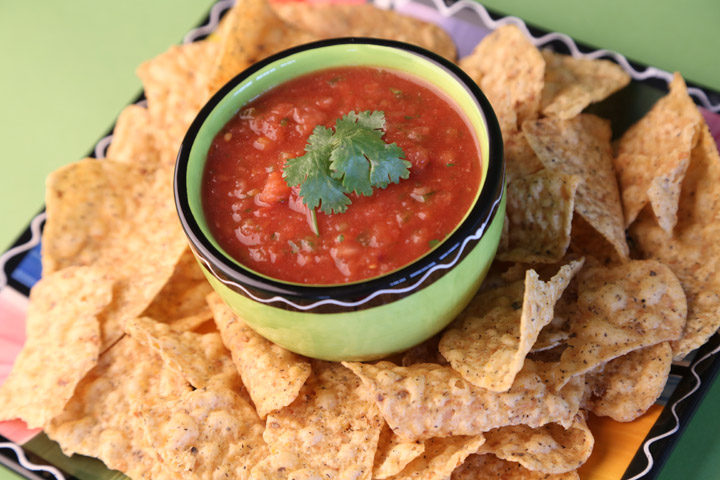 The beauty of this recipe is that you can add or leave out ingredients to suit your taste! If you like red or yellow onion better, no problem! If you like lots of green pepper or no green pepper, no problem! If you prefer lime juice, add lime juice! If you have fresh tomatoes and want to use those, by all means! You would need probably 6-8 tomatoes chopped up. Its Freedom Salsa, and Freedom is a beautiful thing!
You can leave it a little more chunky…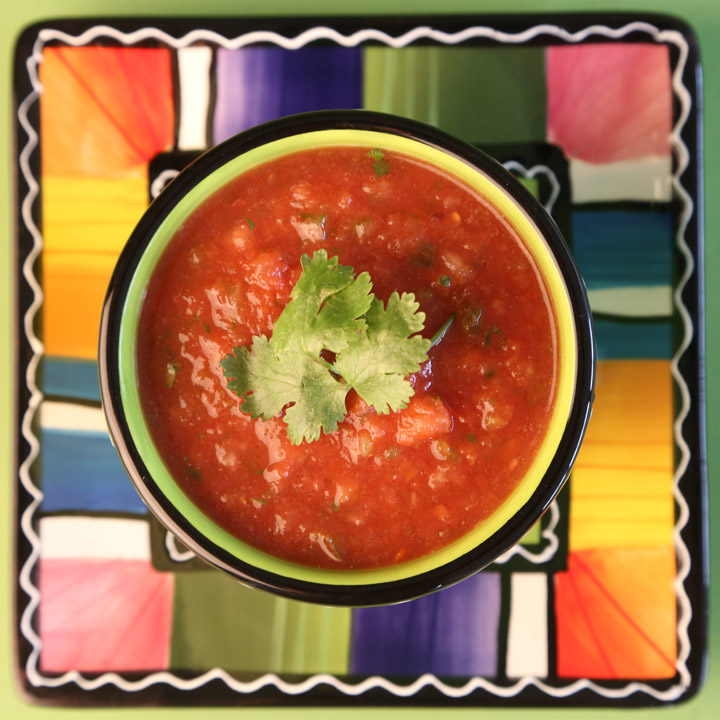 Or pulse/blend till its a little more smooth.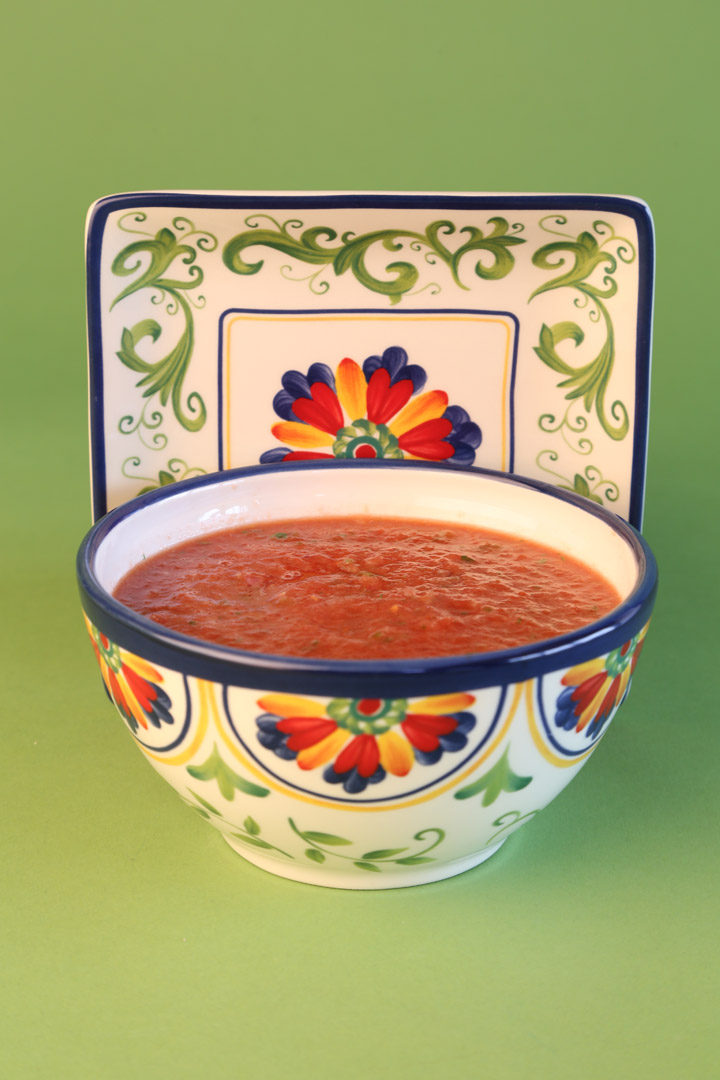 Here in the USA, salsa has been the number one condiment for several years now, more popular than ketchup, ranch dressing or barbecue sauce. People put it on just about anything: eggs, burgers, salad, baked potatoes, chicken, fish, tacos, anything is fair game. Its a healthy choice which makes it something delicious that is guilt free! How awesome is that?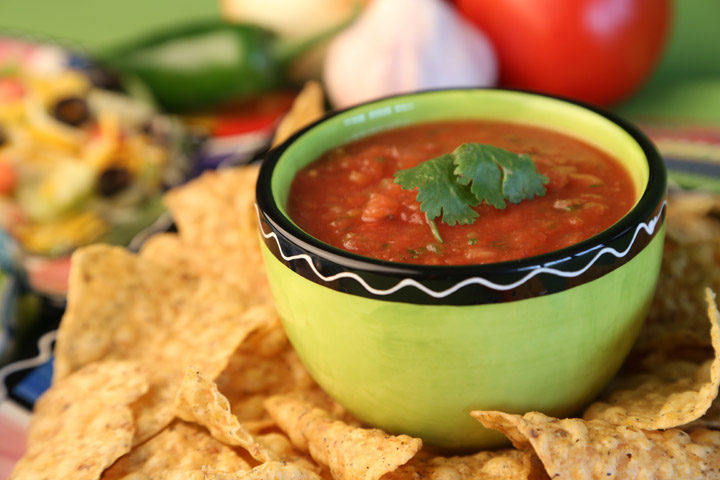 Many thanks again to Emily for sharing this recipe. Emily is a lady of many talents. She can make you laugh till it hurts. I've seen her play Frosty the Snowman in front of thousands on a stage… they don't give that costume to just anyone! I've seen her dress like a zombie and dance in a production of Thriller… she rocked it! I've seen her tell stories to kids with a Marlon Brando accent, adding in lines like "I could of been a contender!" She really is so much fun!
She comes from a very strong and supportive family that she adores: 2 sisters, her mom and her dad, and all are beautiful inside and out. She also has a family history of superb bakers, and she has promised to come back and teach us how to bake a pie! SWEET! Something tells me it might not be as "guilt free" as the salsa! But life is short, try the pie! And make it "ala mode"!
I've learned a lot from my friend Emily. She seeks out the best in life as naturally as the breath within her. She is like the brightest flower in the garden because why would you want to be anything else? She has had her challenges as we all have but she marches to the beat of a drum that says "Life is a gift! Its meant to be lived completely! Don't leave any of your dreams on the locker room floor! Live it to the full!" That will "pump you up and stretch you out" and that is certainly good for me to remember!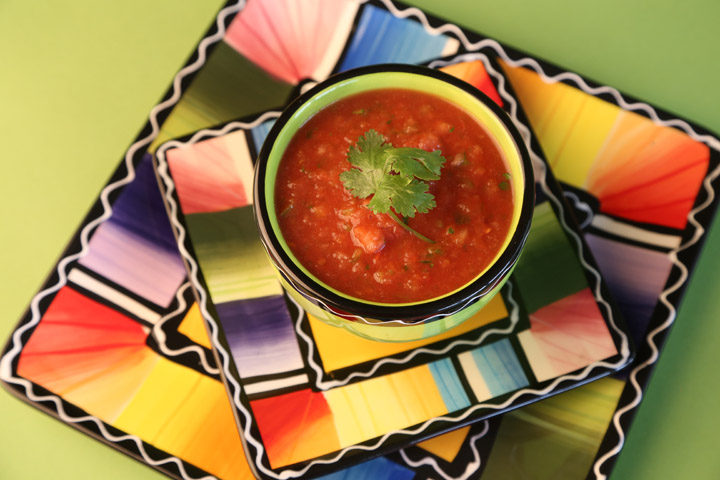 Well my friend, I hope you enjoy this tasty salsa recipe! I hope you have a fantastic week! I will be back Friday for another Fashion Friday!
Love Always,
Amy
"Never ever underestimate the importance of having fun."  ~Randy Pausch